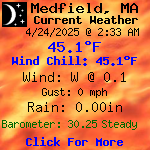 .

The Medfield Fire Department provides Fire, Rescue, and Emergency Medical Services to the community of Medfield, Massachusetts. The department is served by full time Firefighter/EMT's, a full time Chief, and on-call firefighters. We respond to over 1,200 calls per year, including nearly 600 medical emergencies.

Medfield Fire-Rescue provides ambulance service up to the Intermediate level, with Paramedic intercept service provided by EVENTS EMS.

The station is staffed 24 hours a day, 7 days a week by 2 career firefighter/EMT's who operate the department's ambulance, provide inspection and fire prevention services, conduct investigations, and respond to requests for public assistance. For all reports of fire, motor vehicle accidents requiring rescue or hazard mitigation, or other incidents where additional personnel are needed, on-call personnel and off duty full time members are summoned to the station to staff additional apparatus.

Medfield Fire currently operates 1 Ambulance, 3 Engines, 1 Quint/Ladder Truck, 2 Forestry Engines, as well as a specialized trailer for hazardous materials incidents, and an air supply unit for support at fire scenes. The department also has an ATV, snowmobile, and 2 boats ready to respond to special search or rescue requests along with 4 members who are dive rescue certified.
If you have any photos or stories regarding the fire department that you would like to share, send us an email and we will publish them to our page